Whiten, mineralize, clean AND heal teeth naturally
Ready for a revolution in your mouth!
♥   The Dirt tooth powder naturally whitens and mineralizes teeth.
♥   Enjoy beautifully fresh breath and an all-day clean feeling.
♥   Smile with confidence and avoid the dentist for longer!
Dirt is deliciously different
♥  Made entirely from completely natural organic ingredients
♥  Bentonite clay & baking soda with herbs, spices & essential oils
♥  Earthy ingredients that are safe, effective, 
paelo
 and vegan!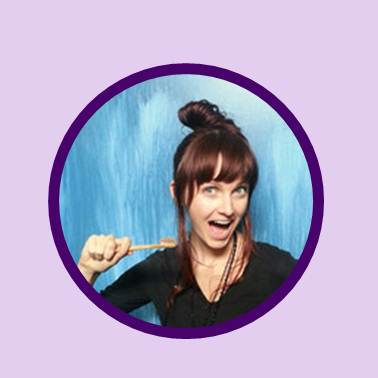 Shannon's Dirty Story
"I was looking for a safe-to-swallow toddler's toothpaste but the BEST one I could find was made from industrial chemicals! It blew my mind that they couldn't even make toddlers toothpaste from simple natural ingredients. So I decided to make something very different, to meet my natural needs, and maybe yours too?  
Dirt was developed from traditional techniques and natural ingredients known to our ancestors. Nearly every culture uses clay in their beauty regimens, we all like to get a bit dirty "
Shannon Drake, Wellness Alchemist, CEO and Founder of The Dirt
What's wrong with 'normal' toothpaste?
It's full of crap and chemicals!
The evolution of your oral health
♥  Most toothpastes contain a long list of chemicals & sugar!
♥  Even
'
natural
'
products use GMO-corn fillers & toxic sweeteners
♥  Do you want to detox your oral health with natural confidence?
Aren't my teeth dirty enough already?
♥  Yellow or grey teeth aren't actually dirty!
♥  Tooth enamel is worn away by acidic food and bacteria
♥  Teeth look yellow or transparent as dentin inside is revealed
Is teeth whitening really safe?
Here are the top 5 ways to get a celebrity smile, which do you prefer?
1. 
Fake it
(with expensive porcelain veneers or use Photoshop)
2. 
Bleach it
(get peroxide inside your teeth through the micro-tubules)
3. 
Laser it 
(UV light opens enamel micro-tubules to let more bleach in)
4. 
Scrub it
(harsh abrasives wear away stains and the protective pellicle)
5. 
Dirty it
(gentle clay, natural minerals and therapeutic essential oils)
Could eating dirt be rough on teeth?

♥  Regular toothpaste contains silica which IS rough on enamel

♥  Bentonite clay is gently abrasive and MUCH softer than silica
♥  Gently and effectively polish your teeth so they feel extra clean
How can dirt be clean?
♥  With clay tooth powder you can feel each tooth individually
♥  The foam in regular toothpaste is less subtle and sensitive
♥  The fine bentonite clay helps you gently polish every tooth
Is remineralization really possible?
♥  Teeth are not passive, they CAN heal like the rest of the body
♥  Your body deposits minerals in teeth using biomineralization
♥  Odontoblasts inside the tooth pulp make new dentin
♥  Ameloblasts then biomineralize this to make enamel
♥  But ONLY if you get the right nutrition (this is KEY!)
♥  Virtually all dental studies ignore this vital fact!
♥  A healthy diet creates healthy teeth, makes sense right?

7-Steps to heal and whiten your teeth
1.
Eliminate
sugar, its addictive poison ruining your teeth
2.
Ignore
profitable dental brainwashing, teeth do heal
3.
Increase
oral alkalinity and banish acid-forming 'bad' bacteria
4.
Eat
healthy fats, vitamins, minerals and phytonutrients
5.
Reduce
phytic acid 'anti-nutrition' (soak beans, nuts and grains)
6.
Keep
your teeth clean to reduce plaque and tartar build-up
7.
Brush

 
with mineral rich powder and oil-pull with coconut
Supported by science and plenty of evidence

"Biomineralization is a dynamic, complex, lifelong process by which living organisms control precipitations of inorganic nanocrystals within organic matrices to form unique hybrid biological tissues, for example, enamel, dentin, cementum, and bone. "
International Journal of Nano-medicine 2016
Simply put….your teeth MAKE dentin and enamel (despite what the $billion dental industry want you to believe!). Provide the right conditions and nutrition so your teeth can be whiter, brighter and healthier.
Does it taste like dirt?
Nope! We synergized the taste and power of nature to deliver you two amazing healthy flavors
Super Mint

Our flavor sorceress devised a magical multi-minty blend. Cool, sweet and sexy minty fresh taste to stimulate your senses and wake you up. Ideal for your morning routine.
Sweet Spice
Spiced orange and cinnamon with the sweet caress of cardamom. Exotic flavors to warm your mouth, arouse your passion and chill you out. Perfect for your nightly ritual.
What's in my dirt?

Only the best and purist natural ingredients
Organic Herbs, Flavors & Spices in Super Mint
Green Tea Extract
Packed with antioxidants, reduces inflammation and increases bone density by promoting mineralization
Wasabi Extract
Antioxidant and immune boosting herb that fights bacteria, opens your airways and gives a gentle kick.
Organic Stevia
Natural plant-based sweetener that delicately stimulates our sweet desires.
Triple-Mint Essential Oils Blend
Antiseptic and antimicrobial mints which freshens breath, improves mental focus and boosts energy.
Cleaning, mineralizing and alkalinizing ingredients

Extra Fine Bentonite Clay
Electrically charged and detoxifying mineral rich ancient volcanic ash which removes bacteria and stains.
Natural Baking Soda
Antibacterial and alkaline water-soluble salt which reduces oral acidity and exfoliates teeth and gums.
Organic Herbs, Flavors & Spices in Sweet Spice
Saigon Cinnamon
Immune-enhancing anti-inflammatory and antioxidant oil boosting oral blood flow.
Myrrh Gum Powder
Aromatic natural resin which improves gum health and reduces pain or swelling.
Nutmeg Powder
Detoxifying spice that fights bacteria and combats bad breath plus reduces insomnia.
Sweet Orange Essential Oil
Calming anti-inflammatory and natural aphrodisiac that speeds up healing.
Cardamon Essential Oil
Antiseptic and antimicrobial aphrodisiac that removes toxins and sweetens breath.
How do I use my dirt?
It's easy, just watch Shannon getting dirty..........
How much dirt do I need?
You only need a tiny bit of dirt each time you brush.
Even our tiny travel-sized jar is enough to last six weeks!   
Do I really have to eat dirt?
♥  We recommend spitting, but you can swallow, its totally safe
♥   Brushing with dirt takes a little more effort than with toxic foams.

♥   Nurture teeth as you brush,  gently restore to perfect health.
♥   You need to rinse your mouth, and sink, well to wash away the clay
How long will it take to see results?
♥  That depends on the condition of your teeth and your diet
♥  Many people see rapid results (lighter and brighter teeth)
♥  For other's years of oral abuse takes a bit longer to repair
♥  Have a little patience and watch your teeth as they recover
A little dirt goes a long way......
Travel Size
6-week supply
One awesome vacation
Or a dirty test
See if you like it!
Family Friendly
3-month supply
Resillient medium plastic tub
Bounces back from drops
Large lid  easy for little hands
6-month supply
Functional and pretty
A whole lot of dirt
To keep your teeth happy
Dirty Little Secrets
♥  Some people think dirt isn't as pretty as toothpaste (
we disagree
!)
♥ It takes a little longer to brush and rinse away (
we enjoy it!
)
♥ You need to put in a little more effort (
beauty takes time!
)
♥ But, we think it is worth it (
so do our happy customers!
)
♥ Are you ready to join the dirty revolution? (I
t will be fun!
)
Let Dirt Help You
♥ Clean, polish, whiten and detox your mouth and gums every day
♥ Control conditions causing inflammation, cavities and sensitivity
♥ Provide minerals essential for biomineralization and healing
♥ Eliminate the bacteria that cause bad breath and increase tartar
♥ Alkalinize your mouth and care for your teeth naturally
Will I like Dirt?
Most people do, 86% Like or Love their dirt!
Watch the video to hear confessions

of some virgin dirty brushers, they
get very excited about dirt!
The Dirt Happiness Guarantee

♥ We think you'll love dirt and want it forever
♥ But if it's not right for you it's easy to sever
♥ To divorce your dirt is an easy endeavor
♥ Simply send it back, no need to explain

♥ Choose a refund or a product exchange
♥ Your dirty happiness is our main aim!
Who else recommends getting dirty?
Get extra Dirt for FREE
♥ Won't you come and get dirty with us?
♥ To get you in the mood we're offering a plus

♥ Buy two jars of dirt and the third's completely FREE!

♥ Get your extra jar at checkout easy as can be
Our Dirty Disclaimer
♥ This is an unprocessed natural product so the color may vary from batch to batch
♥ It's made from clay so will tint white toothbrushes (check out our special brushes)
♥ Serving size based on using twice a day for one person (follow directions on container)

♥ Sweet spice contains cinnamon which some people are sensitive to (see other options)
♥ Offer is for purchasing same exact product (two of the same size to receive a third for free)
♥ Keep in dry place and replace lid after use, discontinue if irritation occurs.